25 March 2019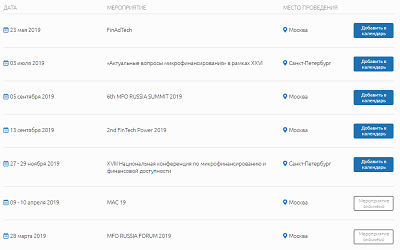 As part of the website update, FinPublic has launched a new section "Calendar of conferences", where anyone can follow the agenda of forthcoming conferences and add the most interesting events to his schedule.
FinPublic regularly participates in various conferences and forums dedicated to marketing, the microfinance market, bank lending, financial technologies, collection issues, etc.
Most often we perform as an official partner of these events. During the long work, we noticed that such conferences are in great demand among people who want to expand their knowledge, get answers to questions, get acquainted with new trends in the market, etc. At the same time, people often do not have the right tool at hand that could suggest what important events are outlined. FinPublic solved this problem by providing users with a convenient opportunity to keep abreast of events. Interested in the conference? Just add it to your plan and a reminder will come at the right time.
Follow all the important events and join us. We will be able to meet at the event and discuss any issues of mutually beneficial cooperation.